Automotive EMC-Tests
In our laboratories in Munich with more than 5000 square meters we offer tests concerning EMC (Electromagnetic Compatibility) and Reliability of electric / electronic and electro-mechanical equipment up to complete vehicles.
We cover the complete range of requirements of international standards (like CISPR 12, CISPR 25, ISO 16750, ISO 11452-x, ISO 7637-2, ISO 7637-3), CE-Regulations (e.g. EN 12895, EN 13309, ISO 13766) and specific Manufacturer Standards (for example BMW GS 95002-x / GS 95025-1 / GS 95024-2-1, VW TL 81000, MBN 10284-2/4, LV 124, LV 148 and more).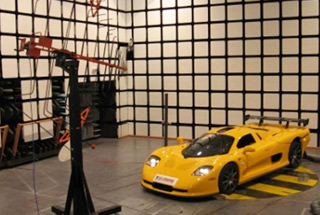 Our laboratory is accredited according to DIN EN ISO/IEC 17025 and notified by German Federal Motor Transport Authority (German: Kraftfahrt-Bundesamt (KBA)) as a Designated (Recognised) Technical Service.
This enables us to perform the tests for obtaining of the E/e Mark. Furthermore, together with our colleagues from SGS TÜV Saar GmbH we offer the Homologation Service for the German Federal Motor Transport Authority (German: Kraftfahrt-Bundesamt (KBA)) - E1 or for NSAI – E24. Your get Test and Certification Services out of one hand.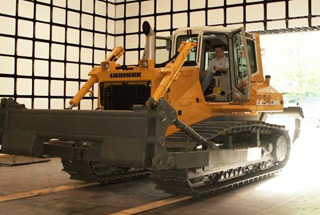 In our test lab you will find competent test engineers and excellent facilities. You benefit from our more than 40 years of experience in EMC business. In several shielded chambers and Semi-Anechoic EMC Chambers with Stripline, TEM-Cell, various pulse generators and CAN-Bus-Monitoring we are able to test:
Electrical Components
Complete Vehicles up to 50 t respectively 12 m length
Forklift / Lift Trucks
Earth Moving Machinery
Agricultural- and Forestry Trucks and Machinery
Charging Stations according to IEC EN 61851-x or IEC 61980-x (together with Product Safety)
Electric Vehicles with High Voltage Components like HV-Batteries, HV-heaters and onboard charing systems
Fuel cells
Aftermarket Equipment (EN 50498)
We support Manufacturers and Importers of various Industries and qualify besides automotive as well wireless / RF components (R&TTE, RED Directive), Medical Devices, Rail Equipment, Aerospace/MIL (DO 160, MIL-STD 461, VG Standards). This will give you the tests for multiple requirements from a single source.
Contact for EMC and Product Safety
Armin Hudetz
Fon: +49 (0)89 787475-133
Fax: +49 (0)89 1250406-4100
E-Mail: This email address is being protected from spambots. You need JavaScript enabled to view it.
More Information for our EMC services you will find here