CE-Certification / International Conformity Evaluation
CE-Marking
The CE marking (also known as CE mark) is a mandatory conformity mark on many products placed on the single market in the European Economic Area (EEA). By affixing the CE marking, the manufacturer, its authorized representative, or person placing the product on the market or putting it into service asserts that the item meets all the essential requirements of the relevant European Directive(s). Examples of European Directives requiring CE marking include toy safety, machinery, low-voltage equipment, R&TTE, and EM compatibility. There are about 25 Directives requiring CE marking.

[References:New Approach Standardisation in the Internal Market - Directives & Standards. CEN, CENELEC, ETSI, European Commission and EFTA.. Retrieved on 2007-06-05.]
Declaration of Conformity
The CE marking is a mandatory European marking for certain product groups to indicate conformity with the essential health and safety requirements set out in European Directives. To permit the use of a CE mark on a product, proof that the item meets the relevant requirements must be documented. Sometimes this is achieved using an external test house which evaluates the product and its documentation.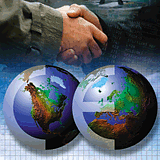 International Conformity Evaluation
The Center for Quality Engineering has various partnerships and business alliance to assure the international market approvals. Business partners are e. g. TUV, UL, NTS,...

We're registrated by FCC and VCCI to accomplish EMC measurements for the Japanese and US market.
More Information:

---

Related links

--------------------------