Measuring, control, and laboratory equipment – an excerpt from our test spectrum
SGS Germany GmbH is accredited by the DAkkS (ILAC), as well as according to the IECEE CB Scheme, for the testing of measuring, control and laboratory equipment. SGS offers the entire range of product tests in accordance with various IEC 61010-x and IEC 61326-x standards as part of a comprehensive test solution for product safety, design, environmental, mechanical, and electromagnetic compatibility (EMC), all at one location. The respective programs, parameters, and procedures for the tests are individually designed by our experienced test engineers in coordination with the needs of the manufacturer.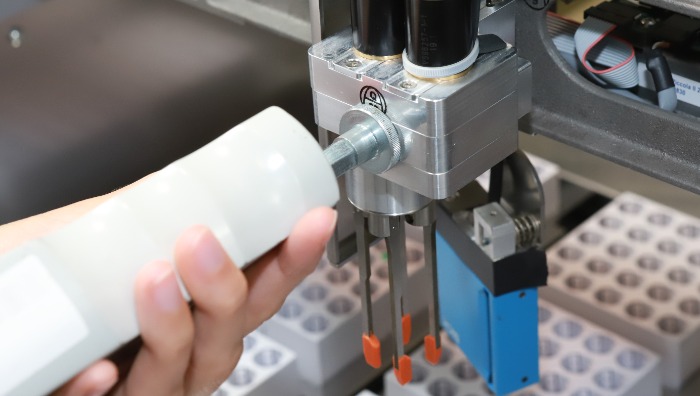 Further information on our laboratory equipment services can be found here.
DIN – German Institute for Standardization
EN – European Standard
IEC – International Electrical Committee
ISO – International Organization for Standardization
Number

English Title

German Title


IEC 61010-1:2010
IEC 61010-1:2010/AMD1:2016
DIN EN 61010-1:2020

Safety requirements for electrical equipment for measurement, control, and laboratory use - Part 1: General requirements

Sicherheitsbestimmungen für elektrische Mess-, Steuer-, Regel- und Laborgeräte - Teil 1: Allgemeine Anforderungen

IEC 61010-2-010:2019

Safety requirements for electrical equipment for measurement, control and laboratory use - Part 2-010: Particular requirements for laboratory equipment for the heating of materials

Sicherheitsbestimmungen für elektrische Mess-, Steuer-, Regel- und Laborgeräte - Teil 2-010: Besondere Anforderungen an Laborgeräte für das Erhitzen von Stoffen

IEC 61010-2-010:2014
DIN EN 61010-2-010:2015
 

Safety requirements for electrical equipment for measurement, control and laboratory use - Part 2-010: Particular requirements for laboratory equipment for the heating of materials

Sicherheitsbestimmungen für elektrische Mess-, Steuer-, Regel- und Laborgeräte - Teil 2-010: Besondere Anforderungen an Laborgeräte für das Erhitzen von Stoffen

IEC 61010-2-030:2017
 

Safety requirements for electrical equipment for measurement, control, and laboratory use - Part 2-030: Particular requirements for testing and measuring circuits

Sicherheitsbestimmungen für elektrische Mess-, Steuer-, Regel- und Laborgeräte - Teil 2-030: Besondere Bestimmungen für Prüf- und Messstromkreise

IEC 61010-2-030:2010
DIN EN 61010-2-30:2011
 

Safety requirements for electrical equipment for measurement, control, and laboratory use - Part 2-030: Particular

Sicherheitsbestimmungen für elektrische Mess-, Steuer-, Regel- und Laborgeräte - Teil 2-030: Besondere

 
 

Requirements for testing and measuring circuits

Bestimmungen für Prüf- und Messstromkreise

IEC 61010-2-040:2020
 

Safety requirements for electrical equipment for measurement, control, and laboratory use - Part 2-040: Particular requirements for sterilizers and washer-disinfectors used to treat medical materials

Sicherheitsbestimmungen für elektrische Mess-, Steuer-, Regel- und Laborgeräte - Teil 2-040: Besondere Anforderungen an Sterilisatoren und Reinigungs-Desinfektionsgeräte für die Behandlung medizinischen Materials

IEC 61010-2-040:2015
DIN EN 61010-2-040:2016
 

Safety requirements for electrical equipment for measurement, control, and laboratory use - Part 2-040: Particular requirements for sterilizers and washer-disinfectors used to treat medical materials

Sicherheitsbestimmungen für elektrische Mess-, Steuer-, Regel- und Laborgeräte - Teil 2-040: Besondere Anforderungen an Sterilisatoren und Reinigungs-Desinfektionsgeräte für die Behandlung medizinischen Materials

IEC 61010-2-081:2019
 

Safety requirements for electrical equipment for measurement, control and laboratory use - Part 2-081: Particular requirements for automatic and semi-automatic laboratory equipment for analysis and other purpose

Sicherheitsbestimmungen für elektrische Mess-, Steuer-, Regel- und Laborgeräte - Teil 2-081: Besondere Anforderungen an automatische und semiautomatische Laborgeräte für Analysen und andere Zwecke

IEC 61010-2-081:2015
DIN EN 61010-2-081:2015
 

Safety requirements for electrical equipment for measurement, control and laboratory use - Part 2-081: Particular requirements for automatic and semi-automatic laboratory equipment for analysis and other purpose

Sicherheitsbestimmungen für elektrische Mess-, Steuer-, Regel- und Laborgeräte - Teil 2-081: Besondere Anforderungen an automatische und semiautomatische Laborgeräte für Analysen und andere Zwecke




IEC 61010-2-101:2018

 

Safety requirements for electrical equipment for measurement, control, and laboratory use - Part 2-101: Safety requirements for in vitro diagnostic (IVD) medical equipment

Sicherheitsbestimmungen für elektrische Mess-, Steuer-, Regel- und Laborgeräte - Teil 2-101: Besondere Anforderungen an In-vitro-Diagnostik (IVD) Medizingeräte

IEC 61010-2-101:2015
DIN EN 61010-2-101:2017
 

Safety requirements for electrical equipment for measurement, control, and laboratory use - Part 2-101: Safety requirements for in vitro diagnostic (IVD) medical equipment

Sicherheitsbestimmungen für elektrische Mess-, Steuer-, Regel- und Laborgeräte - Teil 2-101: Besondere Anforderungen an In-vitro-Diagnostik (IVD) Medizingeräte




IEC 61010-2-201:2017
DIN EN IEC 61010-2-201:2019

 

Safety requirements for electrical equipment for measurement, control, and laboratory use - Part 2-201: Particular requirements for control equipment

Sicherheitsbestimmungen für elektrische Mess-, Steuer-, Regel- und Laborgeräte - Teil 2-201: Besondere Anforderungen für Steuer- und Regelgeräte

IEC 61010-031:2015/AMD1:2018
 

And laboratory use - Part 031: Safety requirements for hand-held probe assemblies for electrical measurement and test

Sicherheitsbestimmungen für elektrische Mess-, Steuer-, Regel- und Laborgeräte - Teil 031: Sicherheitsbestimmungen für handgehaltenes Messzubehör zum elektrischen Messen und Prüfen

IEC 61010-031:2015
DIN EN 61010-031:2016
 

And laboratory use - Part 031: Safety requirements for hand-held probe assemblies for electrical measurement and test

Sicherheitsbestimmungen für elektrische Mess-, Steuer-, Regel- und Laborgeräte - Teil 031: Sicherheitsbestimmungen für handgehaltenes Messzubehör zum elektrischen Messen und Prüfen

IEC 61326-1: 2012
IEC 61326-1: 2020
DIN EN 61326-1: 2013
 

Electrical equipment for measurement, control and laboratory use – EMC requirements – Part 1: General requirements

Elektrische Mess-, Steuer-, Regel- und Laborgeräte - EMV-Anforderungen - Teil 1: Allgemeine Anforderungen

IEC 61326-3-1:2017
DIN EN 61326-3-1:2018
 

Electrical equipment for measurement, control and laboratory use – EMC requirements - Part 3-1: Immunity requirements for safety-related systems and for equipment intended to perform safety-related functions (functional safety) - General industrial applications

Elektrische Mess-, Steuer-, Regel- und Laborgeräte - EMV-Anforderungen – Teil 3-1: Störfestigkeitsanforderungen für sicherheitsbezogene Systeme und für Geräte, die für sicherheitsbezogene Funktionen vorgesehen sind (Funktionale Sicherheit) - Allgemeine industrielle Anwendungen

IEC 61326-2-6:2012
IEC 61326-2-6:2020
DIN EN 61326-2-6:2013
 

Electrical equipment for measurement, control and laboratory use - EMC requirements - Part 2-6: Particular requirements - In vitro diagnostic (IVD) medical equipment

Elektrische Mess-, Steuer-, Regel- und Laborgeräte - EMV-Anforderungen - Teil 2-6: Besondere Anforderungen - Medizinische In-vitro-Diagnosegeräte (IVD)
Contact:
Armin Hudetz
Fon: +49 (0)89 787475-133
Fax: +49 (0)89 1250406-4100
E-Mail: This email address is being protected from spambots. You need JavaScript enabled to view it.

Customer Service
Fon: + 49 89 78 74 75-222 
E-Mail: This email address is being protected from spambots. You need JavaScript enabled to view it.
Related links:

--------------------------