Out of hospital – SGS Munich offers complete testing according to IEC 60601-1-12
SGS Germany GmbH is accredited by DAkkS (ILAC), as well as by the IECEE CB Scheme for testing active medical devices used in emergencies. The devices are tested in SGS's Munich laboratory according to the IEC 60601-1-12, EN 1789, and EN 13718-1 standards. SGS offers the full range of IEC 60601-1-12 product testing, related to design, environmental, mechanical, and electromagnetic compatibility, as part of a comprehensive testing solution at one location.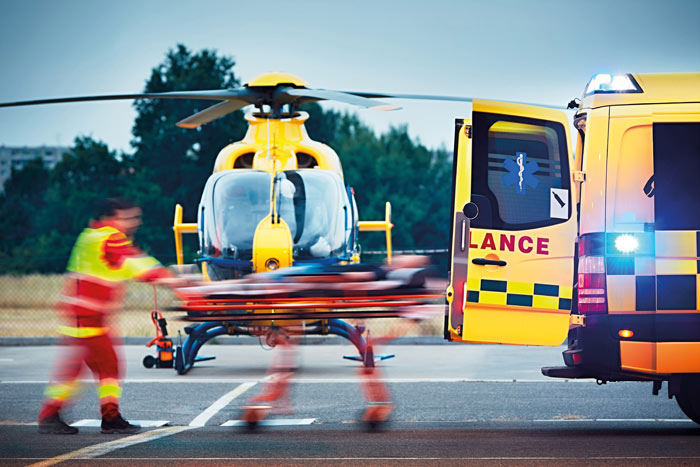 The respective programs, parameters, and sequences for the tests are individually designed by our experienced test engineers in line with the manufacturer's requirements.

The IEC 60601-1-12 standard was first published in 2014 and is a harmonized standard under the IECEE CB Scheme and the FDA's List of Recognized Consensus Standards. The IECEE CB Scheme is an international system for mutual recognition of test reports and certificates on the safety of electrical and electronic components, equipment, and products. The trend shows a rapid increase in annual IEC 60601-1-12 certifications under the IECEE CB Scheme.

The European Commission will list IEC 60601-1-12 as a harmonized standard under the MDR as of May 2021 in its Official Journal publications M/575. This will serve an alignment to the global regulatory requirements.

IEC 60601-1-12 has some similarities with certain requirements regulated in existing European standards, such as EN 1789 for ambulances and their equipment or EN 13718-1 for medical devices used in aircraft for patient transport.

IEC 60601-1-12 combines requirements for different applications (ambulances, helicopters, or aircraft) in one standard and should be considered as the authoritative standard for active medical equipment used in and on ambulances and at locations where emergency medical services are needed, for example at accident or crash sites. Many medical devices fall within the scope of IEC 60601-1-12, so manufacturers should be aware of the key design requirements.
The key constructional requirements of IEC 60601-1-12 relating to power provision are:
Equipment is classified as Class II, meaning protection must not rely upon an earth or the equipment should use an internal battery power supply
Must be able to withstand an AC mains voltage supply tolerance from 85 % to 110 % of the nominal voltage range
Equipment intended to be supplied by DC voltage (e.g. by car battery) must maintain function under the following circumstances:

30 s dip from 12 V to 10 V for 12 Vdc rating and fluctuations between 12.4 V and 15.1 V
30 s dip from 24 V to 20 V for 24 Vdc rating and fluctuations between 24.8 V and 30.3 V

Medical equipment intended for operation in aircraft must be capable of working with the following supplies:

14, 28, and 270 Vdc; and
115/230 V at 400 Hz

Must operate for a minimum of 20 minutes in the following environmental conditions:

Temperature range of -20 to + 50 °C
Atmospheric pressure range of 620 hPa to 1060 hPa
Relative humidity of between 15 and 90 %
The standard also requires that the instructions for setting up and controlling the unit, and analyzing the results, must be readily accessible and visible at an illuminance level from 10 to 10,000 lx – twilight to full daylight.
The standard also covers the mechanical stability a piece of equipment must observe to perform its task. For example, equipment used in helicopters or aircraft must be rugged enough to withstand shock, vibration, and/or free fall tests. It should also be designed in a way that will resist the ingress of water and particulates without loss of functionality. The applicable tests are:
Fixed or permanently installed equipment types – IP22 test, defined under IEC 60529
Transportable equipment types – IP33 test
Stakeholders should be aware that ingress resistance will also directly affect the constructional requirements for preventing electric shocks to the operator and/or the patient.
Emergency medical equipment manufacturers should also consider the risk of electromagnetic disturbances. Their equipment must not emit excessive electromagnetic radiation in order to avoid breakdown or malfunctioning of other devices used in the proximity of the emergency application. Equipment must comply with the maximum emission levels for Class B products, addressed in CISPR 11:2015/AMD2:2019, unless it is to be carried in aircraft, when RTCA DO-160G, Section 21, Category M for electromagnetic emission testing must be applied in addition to IEC 60601-1-2.
With IEC 60601-1-12 gaining acceptance with authorities around the world, SGS is advising manufacturers of emergency medical equipment to now check their products comply with its requirements.
SGS offers a cost-effective testing and certification service to help these manufacturers efficiently bring their emergency medical equipment products to the marketplace. Accredited by DAkkS (ILAC) and the IECEE CB Scheme to test the full spectrum of medical devices to IEC 60601-1-12, as well as the EN 1789 and EN 13718-1 standards, we offer a one-stop approach to compliance.
SGS can be a valuable partner for time-saving, cost-effective, and successful testing and certification.
Contact:
Armin Hudetz
Fon: +49 (0)89 787475-133
Fax: +49 (0)89 1250406-4100
E-Mail: This email address is being protected from spambots. You need JavaScript enabled to view it.

Customer Service
Fon: + 49 89 78 74 75-222 
E-Mail: This email address is being protected from spambots. You need JavaScript enabled to view it.
Related links

--------------------------