MTBF Calculation by EXAR – Reliability analysis and calculation services / EXAR® licensing
Reliability analysis and calculation services by SGS-TÜV Saar
This general information about the reliability of products comprises:
Failure rate and MTBF of modules and equipment
Availability rates of complex systems and single functional paths
Useful stock level calculations of replacement parts and the service level strategy
Expected warranty services
Extract our Services:
Failure rate and MTBF calculations using different methods (e.g. according to EN/IEC61709, SN29500, MIL-HDBK-217F)
FMEA (Failure Mode and Effect Analysis)
Availability calculations using different methods
Consulting and support in the area of reliability studies
For further information please refer to our corresponding brochure
EXAR® licensing
Do you want to perform failure rate or MTBF calculations on a bigger scale by yourself? The program EXAR® developed by us meets this need and can be purchased.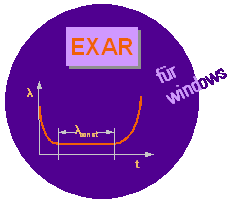 For a free Demoversion contact us by email:
This email address is being protected from spambots. You need JavaScript enabled to view it.
Further information:
Brochure: EXAR V 14.0 - Software suite for the calculation of failure rates
Contact
SGS-TÜV Saar GmbH
Hofmannstr. 50
D-81379 Munich
Tel +49 89 787475 – 240
This email address is being protected from spambots. You need JavaScript enabled to view it.

---

Related links

--------------------------