Burning and Flammability Tests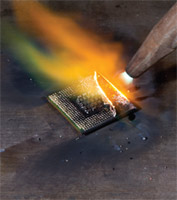 Manufacturers of electrical and electronic products and their components must prove that their goods meet relevant safety standard, including burning and flammability. The risk of uncontrolled fires must be avoided in all your products.  Failure to do so could result in unexpected costs or worse, harm to customers and irreparable damage to brand reputation. From PCBs to complete fire enclosures SGS can test a wide range of burning behaviours against the requirements of the many different safety standards (see table below for more detail). Most commonly requested as part of the CE Mark application process, our burning laboratories conduct burn and flammability tests and deliver reports for approvals relating to:
Flammability
Combustibility
Drops arising from burning
Timely test programmes and analysis of your product's properties by our experts helps you to gain a competitive advantage and achieve cost savings where possible. Beyond simply testing for compliance, we can help you to fully understand the flammable properties and burning behaviour of the materials you use and introduce preventive measures for fire protection to your designs.
Our highly trained technicians and auditors work with you to understand and support your existing compliance programme, or to create a new one tailored to your business needs.
SGS laboratories are qualified to perform burning and flammability tests against the broadest range of international standards and electrical and electronics product categories. See below:
Burning and flammability tests for components, parts and materials eg.: textile, fabrics, fleece, plastic, rubber, natural fibre composites, foam
International
Title

European
Title

NationalTitle
(e.g. Germany)

Title

IEC 60695-2-10

EN 60695-2-10

DIN EN 60695-2-10
VDE 0471-2-10

Fire hazard testing - part 2-10: glowing/hot-wire based test methods
- glow-wire apparatus and common test procedure

IEC 60695-2-11

EN 60695-2-11

DIN EN 60695-2-11
VDE 0471-2-11

Fire hazard testing - part 2-11: glowing/hot-wire based test methods
- glow-wire flammability test method for end-products

IEC 60695- 10-2

EN 60695-10-2

DIN EN 60695-10-2
VDE 0471-10-2

Fire hazard testing - part 10-2: abnormal heat - ball pressure test

IEC TS 60695-11-3

EN 60695-11-3

DIN EN 60695-11-3
VDE 0471-11-3

Fire hazard testing - test flames - 500 W flames - apparatus and confirmational test methods

IEC 60695-11-5

EN 60695-11-5

DIN EN 60695-11-5
VDE 0471-11-5

Fire hazard testing - part 11-5: test flames - needle-flame test method - apparatus, confirmatory test arrangement and guidance

IEC 60695-11-10

EN 60695-11-10

DIN EN 60695-11-10
VDE 0471-11-10

Fire hazard testing - part 11-10: test flames - 50 W horizontal and vertical flame test methods

IEC 60695-11-20

EN 60695-11-20

DIN EN 60695-11-20
VDE 0471-11-20

Fire hazard testing - part 11-20: test flames - 500 W flame test methods

IEC 60695-2-12

EN 60695-2-12

DIN EN 60695-2-12
VDE 0471-2-12

Fire hazard testing - part 2-12: glowing/hot-wire based test methods
- glow-wire flammability index (GWFI) test method for materials

IEC 60695-2-13

EN 60695-2-13

DIN EN 60695-2-13
VDE 0471-2-13

Fire hazard testing - part 2-13: glowing/hot-wire based test methods
- glow-wire ignition temperature  (GWIT) test method for materials

UL 94

 

 

Flammability tests of plastic materials for parts in devices and applications

UL 1581

 

 

reference standard for electrical wires, cables, and flexible cords. restrictions: only vertical flame, FT1 and cable flame test.

UL 1694

 
 

Standard for Tests for Flammability of Small Polymeric Component Materials

UL 2556

 

 

Wire and cable test methods. Only vertical wiring FV-2, VW-1

 

 

DIN 75200

Determination of burning behaviour of interior materials in motor vehicles

ISO 3795

 

 

road vehicles, and tractors and machinery for agriculture and forestry - determination of burning behaviour of interior materials

FMVSS302

 

 

Flammability of interior materials (CFr 49 Part 571);

 

ECE 118

 

uniform technical prescriptions concerning the burnning behaviour and /or the capability to repul fuel or lubricant of materials used in the construction of certain categories of motor vehicles

Telcordia
Gr-63-Core

 

 

NEBSTM requirements: physical protection. restriction: only part 4.2 and 5.2.3 needle flame test.

IEC 60950-1

EN 60950-1

DIN EN 60950-1 (VDE 0805-1)

Information technology equipment - safety - part 1: general requirements.
Annex: Fire protection housing (alternative to V5)
Annex: Fire protection housing (alternative to V0, V1) & components
Annex: Flaming oil (Tests of openings in fire protection ground)

Tl 1011

 

 

VW, Audi, Seat
Technical delivery condition; flammability of plastic materials

DBl 5307

 

 

Supply specification; flame retardant properties.
Interior trim parts; requirements and test specifications.

Tl 1010

 

 

Materials for vehicle interiors; burning behavior, material requirements

GMW 3232

 

 

Test method for determining the flammability of interior trim materials

VOLVO Standard VCS
STD 5031.19

 

 

Flammability of interior materials

GS 97038

 

 

Determination of burning behavior to automotive interior trim materials

SAE J 369

 

 

Flammability of polymeric interior materials; horizonal test method

ISO 3795

 

 

road vehicle, and tractors and machinery for agriculture and foresty
Determination of burning behavior to interior materials

PSA D45 1333

 

 

Materials inside passenger compartment; horizonal flammability

MS 300-08

 

 

Flammability resistance; interior materials

HES D 6003-09

 

 

Flammability test methods for automobile; interior materials

PTl 8501

 

 

Interior / flammability; requirement and testing

SES N 3245

 

 

Test method for flame-resistant interior materials and criteria for flame resistant property

TSM 055G

 

 

Flammability test methods for interior non-metallic materials

TrIAS 45

 

 

Test procedure for flame-resistant interoir; materials of motor mehicles

GB 8410

 

 

Flammability of automotive interior materials

CMVSS 302

 

 

Flammability of interior materials

SASO 449 / GS 98

 

 

Motor vehicles flammability of interior materials and their testing methodes
Contact for Burning and Flammability Tests
Armin Hudetz
Fon: +49 (0)89 787475-133
Fax: +49 (0)89 1250406-4100
E-Mail: This email address is being protected from spambots. You need JavaScript enabled to view it.
For further information please visit: www.sgsgroup.de or contact us under This email address is being protected from spambots. You need JavaScript enabled to view it..

---

Related links

--------------------------